Through Fire by Freya Barker Special Blog Tour

THROUGH FIRE FREYA BARKER
SPECIALIST BLOG TOUR BY FRANCESSCA'S PR & DESIGNS
Violence corroded her…
Obedience defiled her…
Fear kept her chained…
Freedom is hard to embrace when she's never learned to trust. Yet in the span of a second, she grabs a single opportunity and runs toward it. Straight into the sanctuary of a pub at the end of a wharf.
She doesn't understand the concept of friendship. She's never felt the connection of a relationship. She's as innocent as the driven snow and yet tainted with corruption. Still, she finds herself surrounded by people who accept her, without even knowing the first thing about her. But one of them is determined to dig deeper.
He treasures his friends, yet he's steered clear of committed relationships. He likes his life comfortably predictable and entirely controlled. Until it isn't. For months he's avoided interacting with The Skipper's newest addition. Perhaps realizing that once he looked deeply into those liquid brown eyes, he wouldn't be able to turn away.
When his present and her past puts them both on the brink of change, they are forged through fire as one.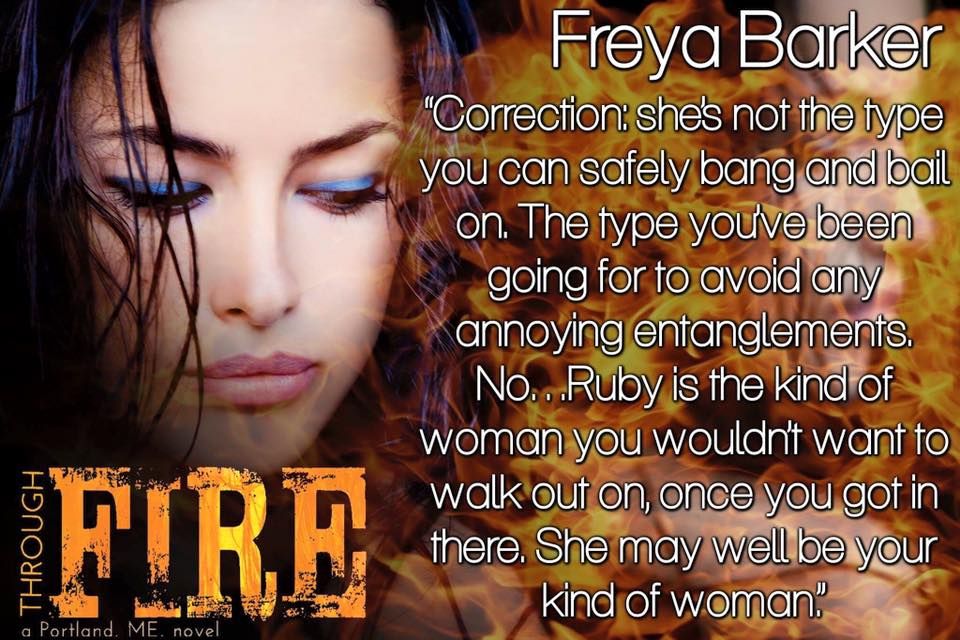 Purchase Links
REVIEW
Reviewer: Raychel
Rating: 5 Stars
AMAZING! Freya Barker has once again brought us to Portland ME with Through Fire and I do love this place and the strong characters we get to meet. Ruby is my new favorite character, she is broken but bu so strong. Seeing her find herself and be able to let go is absolutely beautiful. And Tim is the patience, kind and his morals are out of this world (pretty sure he might just be perfect!) Emotions are just pulled out of you when reading this and the pain, love and every emotion you can think of feels so real. I love that we get the couples from the first two books and the secondary couples leave us wanting more of them (Pam and Dino please!)
About The Author
Author of the popular Cedar Tree series, as well as the critically acclaimed standalone "From Dust," Freya Barker is driven to make her stories about 'real' people; with characters who are perhaps less than perfect, but just as deserving of romance, thrills and chills, and some hot, sizzling sex in their lives.
Recipient of the RomCon "Reader's Choice" Award for best first book, "Slim To None," Freya has hit the ground running. She loves nothing more than to meet and mingle with her readers, whether it be online or in person at one of the signings she attends.
With her kids grown and out in the world, Freya has poured her creative energy into spinning story after story with an endless supply of bruised and dented characters, vying for attention!
Stalk Freya Here: